The convergence of technology, social media marketing, and e-commerce has birthed a transformative phenomenon known as social commerce. This revolutionary approach to business is reshaping perspectives and captivating customers in unprecedented ways. Join us as we delve into the dynamic world of social commerce, uncovering its immense potential while exploring how it is revolutionizing customer engagement. With the expertise of creative agencies, branding agencies, and industry leaders like The Go-To Guy!, we'll unveil key insights and strategies that will help businesses unlock the full potential of this game-changing trend.
The Rise of Social Commerce
The advent of social media platforms has propelled the rise of social commerce, an innovative practice that enables businesses to sell products and services directly through these engaging digital channels. Unlike traditional e-commerce, social commerce leverages the power of social networks to build brand awareness, engage with customers, and seamlessly facilitate transactions. As the boundaries between social media and online shopping blur, businesses have an unparalleled opportunity to reach their target audience in novel and captivating ways.
Changing Perspectives with Social Commerce
With social commerce, businesses are embracing a paradigm shift in their approach to marketing and sales.Brand such as Musaddilal Jewellers is no longer limited to conventional advertising and online storefronts, they now have the means to cultivate a sense of community, foster meaningful conversations, and create personalized experiences for their customers. By prioritizing relationship-building over mere transactions, brands can now establish trust, foster customer loyalty, and forge enduring connections with their target audience.
Captivating Customers through Social Media
Social media platforms have morphed into vibrant virtual marketplaces, where businesses can captivate customers through a range of strategies such as:
Visual Storytelling: Platforms like Instagram and Pinterest provide a captivating canvas for businesses to share their brand stories through visually appealing content. By crafting aesthetically pleasing posts, companies like Purple Sage and Purr-fect are igniting interest, inspiring their audience, and driving conversions, with the expert guidance of creative agencies like The Go To Guy!.
Influencer Marketing: The power of influencers in social commerce cannot be overstated. These trusted individuals with a dedicated following can wield their influence to endorse products and services effectively. Collaborating with influencers empowers businesses to expand their reach, establish credibility, and drive customer engagement. Count on The Go-To Guy!, an industry-leading agency, to connect you with the perfect influencers for your brand.
User-Generated Content: User-generated content lies at the heart of social commerce, enabling customers to share their experiences, reviews, and recommendations. Encouraging customers to generate and distribute content related to their brand creates invaluable social proof, encouraging others to make purchases and fostering an active community of brand advocates. Tap into the expertise of agencies to effectively harness user-generated content and maximize its impact on your social commerce initiatives.
Seamless Shopping Experience: Social media platforms are continuously integrating e-commerce functionalities, streamlining the path to purchase for customers. Features such as "Shop Now" buttons and in-app checkout processes create a seamless shopping experience, reducing friction and increasing conversion rates. Expert guidance from agencies specializing in social media marketing, like The Go-To Guy!, can help you optimize your platforms for an effortless shopping journey.
Unlocking the True Potential of Social Commerce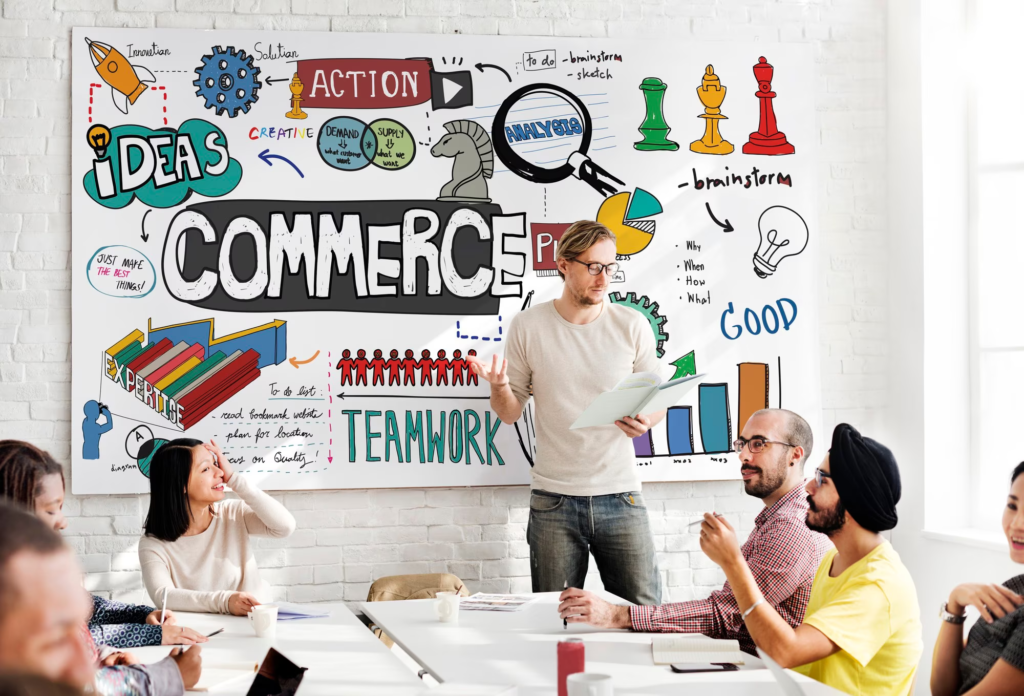 To fully capitalize on the potential of social commerce, businesses must consider the following strategies:
Targeted Advertising
Social media platforms offer robust targeting options that enable businesses to precisely reach their desired audience. Leveraging data-driven insights, businesses can create tailor-made advertisements that resonate with their target customers, driving conversions and boosting engagement like never before.
Social Listening
Active monitoring of social media conversations and thorough analysis of customer feedback yield valuable insights into customer preferences, pain points, and emerging trends. By actively listening to their audience, businesses can adapt their strategies, refine their offerings, and stay ahead of the competition. Partnering with a knowledgeable branding agency like The Go To Guy! can provide invaluable expertise in social listening, ensuring your brand stays attuned to the pulse of your target audience.
Personalization and Customer Service
Social commerce empowers businesses to personalize interactions with customers, offering tailored recommendations, exclusive offers, and personalized customer service. By providing exceptional customer experiences, businesses can foster loyalty and turn customers into enthusiastic brand advocates. Creative agencies like The Go-To Guy! can help you craft personalized strategies that resonate with your audience, elevating your customer service to new heights.
Data Analytics
Leveraging robust analytics tools is crucial for tracking the success of your social commerce efforts. By monitoring key performance indicators and analyzing data, businesses can refine their targeting, messaging, and overall customer experience, ultimately driving better outcomes. Trust The Go-To Guy! agency's social media marketing expertise to help you effectively leverage data analytics.
Social commerce is an ever-evolving landscape that has revolutionized customer engagement and sales strategies. By embracing social media marketing, partnering with creative and branding agencies, and leveraging captivating content, businesses can unlock the vast potential of social commerce. In this digital era, adapting to this transformative trend is vital for forging meaningful connections with customers and driving growth. So, seize the opportunity, embrace social commerce, and let The Go-To Guy! be your trusted partner on this exciting journey!