Have you ever felt like others are zooming ahead, leaving you in the dust, while they skyrocket their brands and captivate audiences in 2023? Well, it's time to level up your social media game.
But, Why Social Media Marketing?
Because folks, Social Media is where the party's at! With over 4.26 billion active users worldwide, 500+ active Instagram accounts daily and 4.4+ Facebook visitors monthly it's a bustling hub of potential customers just waiting to be engaged. Think of it as a gigantic pond filled with fish, and you don't want your competitors to snatch them all up before you do!
If you think a random post or a meme can boost your ranking, it's a big mistake. It's time to gather your team, sit down, and craft a killer social media marketing strategy that will leave your competitors scratching their heads in awe. Let's dive into this blog where we will learn about what goes into making a killer social media marketing strategy in 2023.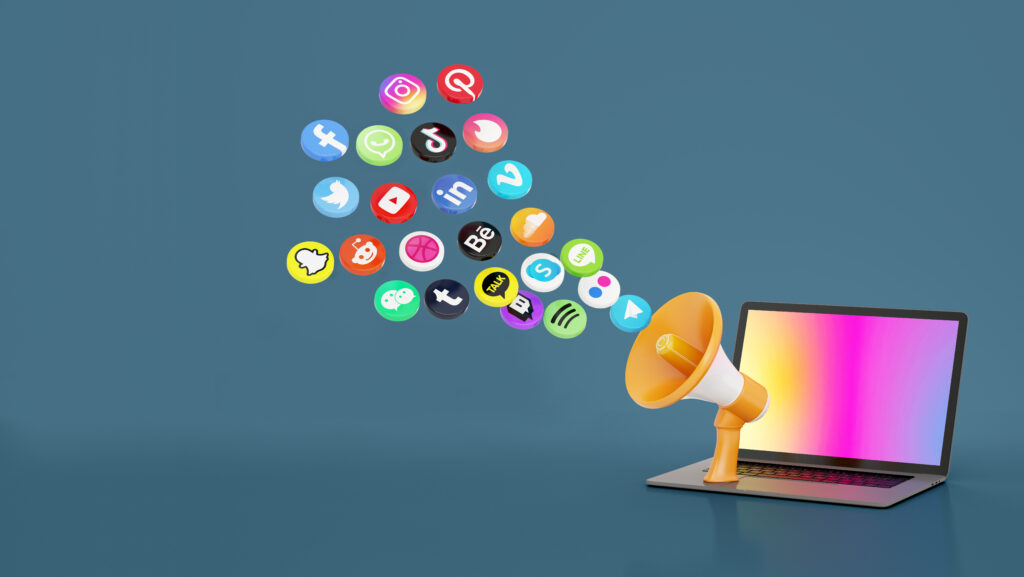 The need of being active on a social media platform
Social media is the ultimate superpower for brands no doubt about it. But," With great power comes with great responsibility". Although social media amplifies brand presence and forges deep connections, it can't do it by itself. You should don a detective hat, carefully gather clues, and arm yourself with the right information before creating an account on any platform. Trust me, once you're equipped with the right social media marketing trends, nothing can stop you from conquering the digital realm!
1) Choosing the right social media platforms
Every social media marketing platform has a different user base that attracts people with a special format of content.
a) Social Networking
If you want to start a business profile, Facebook is the king of social networking, ruling the virtual realm with over 2.8 billion monthly active users! It's the go-to platform for businesses seeking a casual and interactive vibe.
Need to lure an audience with eye-catching visuals and content, then Instagram is for you. With over 1 billion monthly active users, Instagram is a must-have for most brands in 2023.
LinkedIn on the other hand is slightly more professional and is best suited for B2B marketing. The active user base of LinkedIn is also very formal and educational, so a professional business would thrive better on LinkedIn.
Lastly, Twitter isn't to be ignored as it's a fast and furious version of quick interactions, snappy banter, and resolving queries.
b) Photo Sharing
With a staggering 1 billion monthly users, Instagram is the perfect playground for visually stunning brands. From mouth-watering food pics to fashion-forward outfits, Instagram will make your brand look like a million bucks! And don't underestimate, Pinterest. With its 478 million monthly users, it's a treasure trove for creative businesses, allowing you to showcase your products with just a pinch of charm to your store without having to reach a certain number of followers.
c) Video
Video is a popular social media marketing trend in 2023. When it comes to video marketing, YouTube remains the undisputed champion with a mind-boggling 2 billion logged-in monthly users! It's the place where long-form content thrives, making it ideal for in-depth tutorials, product showcases, and entertaining vlogs.
But wait, there's a rising star on the horizon! TikTok. It took the world by storm with 1.2 billion monthly active users. It's perfect for brands looking to captivate the audience with short and snappy videos.
Facebook, Instagram, and YouTube rolled out their own Short video features to keep up with TikTok's success, creating a never-ending stream of entertainment for users.
2) Determine your target audience
Deciphering your target audience is like cracking a secret code. To understand who your target audience is, start with wide categories and narrow it down:
Age: Which age groups would you like to target?
Location: Locate your audience based on their geographical locations.
Interests: Know what your audience likes and whom they interact with.
Buying habits: Find their income and how much they like to spend.
These questions will make you understand what kind of people are following you and give you a clue about which social media marketing platform is good for you.
3) Timing is crucial
What is the best time to post on social media? It's still a question that marketers have been asking since the dawn of time.
The best time is dependent upon your audience's consumption rate. If your target audience has the maximum active sessions around the evening, skip posting at 9 am on a Sunday morning.
Normally, the good time to post on social media overall is 9:30 PM IST on Mondays. However, each network has its sweet spot.
Instagram: From 3 PM – 6 PM, 6 PM – 9 PM, and 12 PM – 3 PM. The best day is Saturday.
Facebook: From 6 PM to 9 PM or 12 PM – 3 PM. The best days are Fridays and Saturdays.
Twitter: From 9 AM – 12 PM or 3 PM – 6 PM. The best days are Fridays and Wednesdays.
LinkedIn: From 9 AM – 12 PM or 12 PM – 3 PM. The best day are Mondays and Wednesdays.
Pinterest: From 3 PM – 6 PM. The best day is Friday.
YouTube: From 12 PM – 3 PM or 6 PM – 9 PM. The best days are Fridays and Saturdays.
TikTok: From 12 PM – 3 PM, 3 PM – 6 PM and 6 PM – 9 PM. The best days are Thursdays to Saturdays.
4) Metrics
Whether you are a small, medium, or large business, if you are utilizing social media for sales enablement and promoting business, you have metrics to track.To unlock the full potential of your social media presence, it's crucial to analyze engagement, clicks, and impressions. By understanding what's working and what's not, you can optimize your strategy for maximum impact.
Our ultimate objective is to achieve a high click-through rate and maximize conversions. Clicks alone hold little value if they do not translate into new customers.
Along with analytics use UTM parameters to track social visitors. After you get data use it to re-evaluate strategy. Constant testing can refine your social media marketing strategy. Check the performance of your channels at least once a week. "Undergoing successful digital marketing training can assist in formulating a better and effective social media marketing strategy."
Posting on your social media blindly isn't going to cut it. A social media presence needs a strategic plan to reach the right customers. However, there is no perfect strategy that will draw maximum eyeballs in no time. A social media marketing strategy takes time to implement and display results. Be patient and scrutinize your strategies.
Conclusion
Ready to take the leap? Look no further than The Go-To Guy!. We are a dynamic branding and marketing agency, and are here to offer unparalleled social media marketing services. From crafting unforgettable brand identities to activating your online presence, we're committed to driving brand engagement and fueling your growth. Join us in thriving across multiple platforms, on the web and beyond.
About The Go-To Guy!
The Go-To Guy! is a creative branding and marketing agency that builds memorable brand identities, activates online presence, and brings brand engagement to help companies grow online, offline, and across multiple platforms.