In this fast-changing world of digital marketing, grabbing and keeping your audience's attention is crucial. As attention spans shrink, plain old content often falls short. That's where the magic of video storytelling steps in. In this blog, we'll show you how hiring experts for your video production agency can boost your message and lift your brand. We'll use a real-life example to make it all crystal clear.
Visual Stories Rule:
In today's digital world, visual stuff is where the magic happens. Videos, especially, rock at telling your brand's tale in an exciting way. Take a peek at Coca-Cola's "Share a Coke" gig. Instead of the same old ads, they made cool videos where folks found their names or special notes on Coke bottles. This visual storytelling didn't just make it personal but got people sharing their Coke stories online. The outcome? Everyone went bonkers, and Coke sales shot through the roof!
Evoke Feelings and Forge Connections:
Emotions hold the keys to our choices, and videos wield this power masterfully. Think about Dove's "Real Beauty Sketches" campaign – it's a tear-jerker, isnt it? Through the video, they unveiled how women view themselves compared to others' perspectives. This emotional video struck a chord, spreading like wildfire and sparking conversations about self-esteem. Dove, as a brand, became the champion of genuine beauty. That's the magic of video production services. It's about creating content that tugs at your heart, and we, as a video production agency, understand this art well. Let us craft your compelling story through our video services.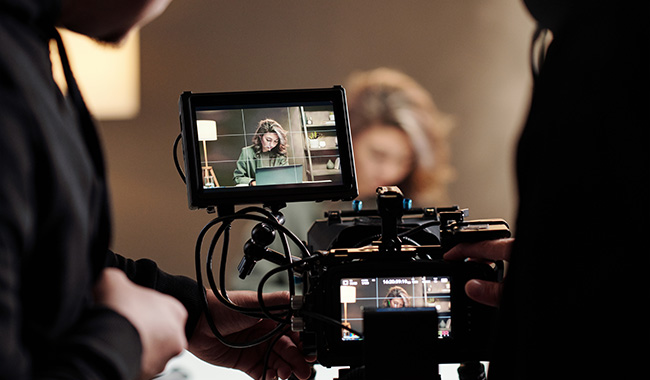 Reveal Your Brand's Identity:
Every brand has its own special character and beliefs. This is where video production services come into play, breathing life into the essence of your brand. Airbnb's "Belong Anywhere" campaign is a great example. They used beautifully crafted videos to display the rich tapestry of their hosts and guests, sending the message that you can find a sense of "belonging" anywhere worldwide. These videos didn't just showcase the brand's personality; they deeply connected with travelers seeking authentic experiences. This is the magic of video services, and as a video production agency, we're here to make your brand's character shine through captivating storytelling.
Untangle Complex Concepts:
Certain messages are naturally tangled in complexity. That's where video production services work their magic, untangling these concepts with captivating visual explanations. Think of TED Talks – they're masters at this game. These snappy, enlightening videos use visuals and storytelling to break down complicated subjects. They turn intricate ideas into something anyone can grasp and get excited about. That's the power of video services. As a top-tier video production agency, we're here to simplify your message and capture your audience.
Elevate Engagement and Retention:
Videos are like magnets; they grab and hold people's attention way better than other stuff. Look at Red Bull's "Stratos" gig – it's a winner. They sponsored Felix Baumgartner's epic stratosphere jump and streamed it live. The jaw-dropping visuals and suspenseful storytelling kept millions glued to their screens, making Red Bull the talk of the town.
To sum up, using video production for storytelling is a must for today's marketers. Videos work wonders – they can transform your message, keep your audience hooked, and boost your brand like never before. Whether you want to stir emotions, make tough stuff simple, or supercharge engagement, our professional video production services are here to help. Don't miss the chance to master visual storytelling in the digital era, just like these awesome brands did.
The Go-To Guy! played a pivotal role in helping LendingKart, one of their premier clients, a leading NBFC, enhance its brand identity and share compelling stories with its audience.
Through innovative design, video production, and digital marketing strategies, The Go To Guy! effectively communicated LendingKart's values and services, ultimately helping them enhance their brand identity and engage with their audience in a meaningful way.
About The Go-To Guy!
The Go-To Guy! is a creative and digital marketing agency that has established itself as a leader in the competitive creative industry globally. With a focus on innovation and a willingness to adapt to the ever-changing landscape of the digital economy, The Go-To Guy! builds memorable brand identities, activates online presence, and enhances brand engagement to help companies grow both online and offline.