"Content marketing is taking over SEO." "SEO is old news and content is what every business needs."
Do these headlines sound familiar to you? As a marketer, you must come across tons of such articles trying to pit content and SEO against each other. And these articles are everywhere, even reputed publishers like The Guardian have written about it. But this argument is flawed. Do you notice the fundamental error in this conversation? No? Let us give you a hint.
Do you think you can execute a successful content marketing campaign without SEO? Or optimize your website well for search engines without content on it? You cannot. The two aren't enemies fighting for the same space but allies that work together to help you meet your goals.
Two Sides Of The Same Coin
Only when you focus on both – SEO and content – can you have a website or a blog that your audience is going to love. Without SEO, people won't be able to find the articles. And without content, you'll have very little to optimize. This way, a robust SEO strategy, and good content are two sides of the same coin – which is a solid marketing strategy.
SEO is quite narrow and technical while content is broad and holistic. This way, when you put the SEO strategy and the content strategy together, content lends itself to make SEO broader and SEO helps pinpoint the content. But that is not all. Content plays an important role in a successful SEO strategy in many ways. Let us tell you how.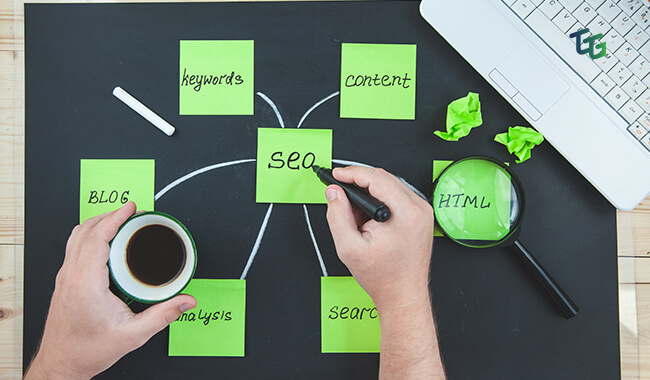 Content Is What Search Engines Analyse
Every website or business needs SEO to reach a wider audience. As you might already know, SEO helps you rank higher on Google search results, which is mostly where your audience starts their journey when looking for a service or a product. But content is what's helping you optimize your website. Google and other search engines scour through the content your website has on it to figure out whether it will be helpful to the audience or not.
One might argue that articles and keywords are just one half of the optimization because the other half includes web design, page loading speed, sitemaps, etc. That is true, but you can't hold the audience's attention with just that. Without content on the website, there's nothing that can convince the visitors to stay on it, and the bounce rate skyrockets, ultimately killing your SEO strategy.
Content Improves The Click-Through Rate (CTR)
To rank higher on Google, you must ensure the title of your page/post is engaging and gets more clicks. This improves your Click-Through Rate (CTR). Higher the CTR, the better the ranking. But people are not going to visit other pages if you don't have more content to offer or if they don't like the content they came across. This is why you need a content strategy to create lots of useful content that people would be interested in reading. This way, quality content plays an important role in improving your website's CTR, and in turn, it's ranking on Google.
Content Improves SEO Ranking Through Backlinks
If you want people to trust you, telling them you are trustworthy is not going to work. But if an unbiased third person vouches for you, people are more likely to trust you. This applies to the world of SEO as well. Credibility is everything when it comes to Google ranking. If Google thinks your website is credible, you rank high, if not, you go down.
But your website's credibility does not come from you saying it is credible. Like real life, unbiased third parties need to show Google you are trustworthy. This happens when other websites link your content as a source on their website, which is also called backlinking. The more backlinks you have, the more credible you are for the search engines. So, good content also helps you generate many backlinks that improve your SEO score.
Content Offers A Platform For Keywords
One of the most basic yet effective SEO strategies is to use the right keywords. Google uses keywords to show the most relevant results to queries and if your website has the right keywords, it is more likely to show up on top. But where will you put keywords seamlessly if not in the article and listicles? In fact, that is an important part of content marketing, to use keywords strategically in the right places so make sure the article or the blog shows up in Google results.
Content Keeps The Website Fresh
Since good SEO practices are completely at the whim of what Google wants, content marketing becomes indispensable for high SEO scores. Google prefers websites that are always updating and adding new content to them. On the other hand, a website that doesn't change for long periods is considered less useful to the audience. But doing this is impossible without a consistent output of content. This is another reason why a good SEO strategy cannot sustain without a good content strategy.
The next time somebody tells you to pick content over SEO or vice versa, you should remember that one cannot exist without the other. They are the Yin and Yang of successful digital marketing. SEO strategies need content because it acts as the medium for optimization, and content needs SEO to be discoverable. At The Go-To Guy!, we understand how important both are for the success of your business, and offer a holistic approach to marketing. So, if you want to break from the clutter and bring your business to the forefront, get in touch with our SEO experts.